As an integral part of our graduate training programme, we run an annual Graduate Academy, which offers graduates a springboard into their first year of technical work, and adds direction and context to their initial steps in the industry.
Introduced by experts
AREVA RMC's Graduate Academy runs every year over a period of four or five consecutive days at Aston University's campus in Birmingham. With a wealth of technical knowledge and hands-on industry experience, our own in-house experts introduce graduates to the UK nuclear industry, its history, current practices and regulations, alongside pragmatic tutoring in business skills and client interaction.
Designed as a kick-start to a graduate career in nuclear, the Academy gives graduates a taste of the industry today, and what our company has to offer. We aim to foster the next generation of nuclear consultants, initiating a thirst for knowledge and a keen eye for business and client satisfaction.
Day 1
Introducing the UK nuclear industry and the dynamics of business
An in depth introduction to the UK nuclear industry and radioactivity and its effects and a look at how a business really works.
Day 2
How to be a consultant: technical and professional skills
Consulting skills, UK licensing and regulations, nuclear safety cases and safety integrated design, shielding and dose assessment.
'Meet the Management Team' evening 
Day 3
Project management and Specialist skills
Nuclear fuel cycle, nuclear accidents & safety culture, Human Factors, project management and bids. Graduate Evening
Day 4
Business Skills and Waste Management
A detailed look into waste management and decommissioning. With an insight into Business skills and how to make a profit!
Where to find us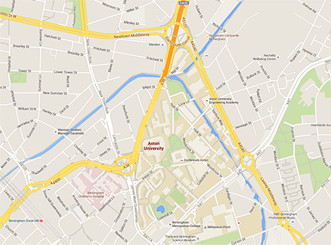 Aston University
Aston University Campus is in the centre of Birmingham, within walking distance of Birmingham New Street Station and the city centre.
The Academy is a residential course, with meals and accommodation provided at the venue.